The sad state of our sue-happy country makes it necessary for me to post a disclaimer for the idiots out there.
I put together these pages because some friends and fellow haunters ask questions about techniques and such, and it is easier to document the process of each project. If you choose to make any of the following projects using mine as a reference, you do so at your own risk. If you don't know how to use power tools, please get someone who does know to teach you properly. If you harm yourself or someone else because of your inability to use tools or just because you're an idiot, that's your problem, not mine. I'm not an expert, nor a teacher, nor do I claim to be; so proceed with caution.
Below are just a few small projects I have completed here and there with no or very little documentation.
Lots of fun with a little Blucky pal and some latex. I cut out the spaces between the ribs and the forearm and shin areas, the mouth, eyes and nose, plus chopped off the front half of the pelvis to make it look better. I just brushed latex onto the plastic, then stuck some tissues on, and brushed more latex over that. It wrinkles well, looks gnarly up close. I filled the pelvis in with Great Stuff expanding foam before covering it.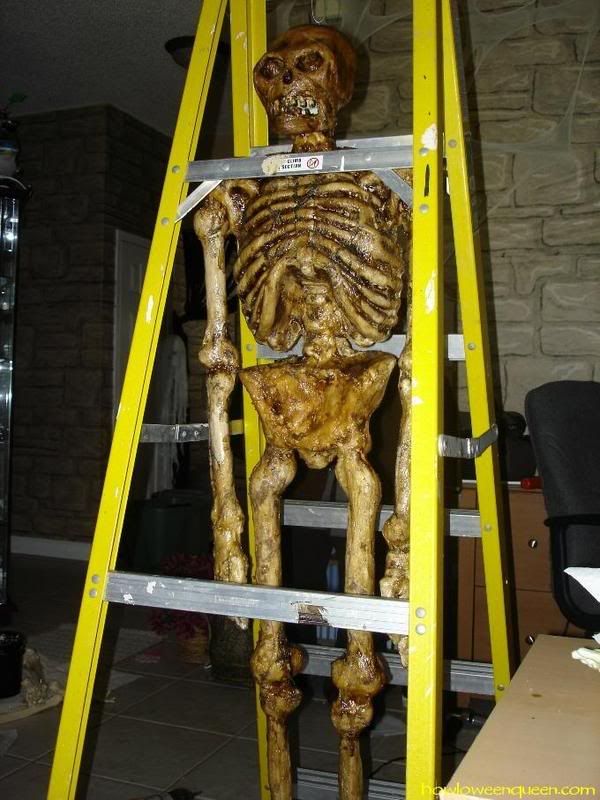 Not really a "little" project, but something I made. I used 1X2s to build a frame, then used some pink foam board to cover it. I have a section of 1/2" PVC running down the length of each column to slide over Rebar in the ground so they don't tip over. I screwed the PVC in place at an angle through the end sections and applied some Gorilla glue for extra measure. I also left a couple of inches of PVC sticking out of the top of the columns so that I could attach my PVC Cemetery sign to them to create an arch.
The top pieces are just 2" white Styrofoam. I used Gorilla Glue to help hold some of this together, plus some screws, bamboo skewers, Great Stuff, and joint compound. I coated it all in DryLok then painted.
Below you can see the PVC, to the left is the bottom of the column, the right is the top of the column.
I used a heat gun to curve the PVC in to the arch shape. I used some 1 inch pink foam scraps and a Hot Wire Foam cutter to make the letters. I used screws to hold the letters in place, but the wind kept causing the arch to move and made the letters fall off a few times, so I ended up using zip-ties to hold them in place. I just painted the zip-ties black after I got them on there.
I use a "T" connector to attach the two curved PVC pieces. I just used the heat gun to bend the bottom part of the arch so that I could fit it all together. The above right picture shows my attempts at getting the letters to stay put. I started with screws, then tried hot glue to hold them still, and ended up with the zip-ties. I also dabbed some rust colored paint here and there on the arch to give it an aged look. Of course, you can't see it, but I know it's there and I like it...lol
I was looking at one of my big pillar candles the other day, and I was thinking I should get a holder for it that was Halloween-themed since it is one of my favorite scented candles, and I didn't really want to pack it away in my closet until November. Then I thought, why don't I just make one!
I started with some cardboard from a Diet Coke 12 pack box. I cut it into a couple of strips, then taped them together to make a ring. I took it outside and spray-painted it black. I finally decided on using some moss that I had handy and hot-glued some onto the outside of the ring. Then I glued a spider on to the front, and added some of that cheap stretchy web stuff. I coated it all with some spray spar urethane to kind of help keep it together. Once it was dry, I just slid it over the existing candle holder. Just in case you try this -- BE CAREFUL WITH CANDLES!
I decided my witches needed a better cauldron in 2006, so I tried to use some fiberglass resin. It didn't work very well because I couldn't mix it right and work fast enough... all kinds of things went wrong with that. So I just took my chicken wire form and duct taped the heck out of it. Then I Monster Mudded it. I stuck some short sections of 1" PVC on the bottoms while mudding it to give it something to keep it off the ground. Then I coated with DryLok and painted it black.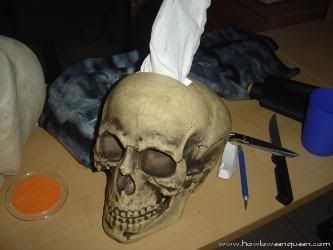 Here, I took a foam skull that I bought at Garden Ridge and cut an opening in the top for tissues to be dispensed. I cut another larger hole in the bottom, so I could take the tissues from a whole box and insert them though the bottom. Just like a regular tissue box, only COOLER!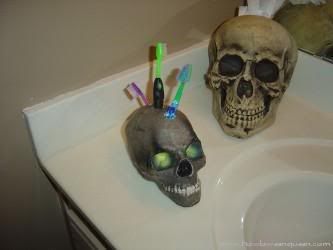 I felt the kids needed a cool toothbrush holder to go along with the tissue dispenser, so I drilled 3 holes with a 5/8" spade bit in this plastic Big Lots skull. My son really liked it.
Everyone keeps asking me how I make my PVC guys stand up by themselves inside and on concrete. This is basically the foot design. I use the thicker (schedule 40 I think) 1" PVC for the leg and foot and just glue it all together, throw in some screws for added security, and put a shoe with the bottom cut out over it. I guess if you had a bigger shoe, you could use a "T" on the heel part for some more stability. It's really too simple, but works really well. I've only had "Frankie" and the other guys fall when I was using the thinner 1" PVC.
Here is one of my finished projects for 2005, a pub sign for my kitchen. I made it using the pink insulating foam, carving it just like I did the tombstones for 2004. Pictured to the right is the sign my teenage neighbor did for me (her own design) before leaving for Tampa for college.
Back in 2000, I decided on making some really big spiders for my living room and formal dining room. One year, I put the bigger of the two out on the front entrance to the house, and it was a HIT. People were afraid to walk under it because they thought it might drop and scare them. I get a lot of questions about how I made them, so I figured it was time to add it here.
I drew out the spider on several sheets of newspaper that I taped to the floor. (It was about 6 feet long) Then I pulled the newspaper up and pinned it with straight pins to my fabric (2 sheets of fabric - one side black, the other side purple). I cut it out along the lines of the drawing on the newspaper. I removed the paper, leaving the pins in the fabric and sewed the edges together all the way around with my sewing machine, leaving a 6 inch gap near the bottom of the main body so I could stuff it.

I then placed some 14 gauge wire into the legs (one section of wire for each row of legs, 4 sections of wire altogether). Then I stuffed the spider's body and legs with the insides of a couple of old pillows. I hand sewed the opening I used to stuff it with.

Finally, I added some rice lights in bunches wired together for the eyes and stuffed the battery pack inside the head.

I suspend the spider using fishing line. It's a somewhat heavy prop considering it's fabric, but using the fishing line works well. I ran the line through a section of the fabric in two places, one at the tail end of the body and one at the head and attached them to a hook I installed in the ceiling. The legs each got either nailed into the wall or attached with fishing line. The legs are poseable sine they have the wire in them, so I can bend them to look a little better.
All information contained on this website www.howloweenqueen.com is provided for FREE, is intended for entertainment purposes and general sharing, and may not be reproduced without express permission from the website owner. If you have been sold information regarding or taken from this website, please contact the admin at the link in the navigation menu. Copyright 1999-2008, The Dead End.